Fundraiser for Tiffany Nuckols Stone is Sponsored by: FRIENDS & FAMILY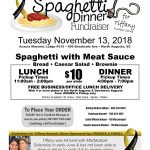 Tiffany was hit hard with MS(Multiple Sclerosis) in early June & has not been able to drive or return to work due to severe vision impairment. She wants to thank everyone for the Outpouring of Love & Support.
Tiffany wants you all to know that with GOD and your every thought, prayer & show of support are highly appreciated in her rebound!! #mswarrior #icantbeatmsbutitwontbeatme
---
Online Ordering has closed. If you have any questions please contact one these friends.
Ashley McGee Gillian ~ 803-341-0361
Courtney Burnett ~ 706-631-1897
Lydia Wilson Belger ~ (FB Messenger)
Sandra Gunnoe Rhodes ~ (FB Messenger)
---
Online Ordering has closed…